Explore Your Body's Creative Intelligence with Laura Colomban RSMT/ RSME
January 14 @ 10:00 am

-

5:30 pm
Explore Your Body's Own Creative Intelligence – 1 day ONLINE workshop.
An Introduction to the Tamalpa Life Art Process®
This participatory Live Online one day workshop with Laura Colomban, RSMT/RSME is an opportunity to connect and explore your body's own creative Intelligence, as you embrace the New Year and the lifestyle changes you wish to create in 2023.
A mixture of Somatic movement, mark making/drawing and creative writing.  Pause To Breathe & Move with Creative Curiosity.
The workshop also acts as an introduction to the Tamalpa Life Art Process®, a body of work spanning over 40years.
Participants will gain insight into specific tools to discover how creativity, movement and dance can be a platform for navigating the compelling issues and themes in their lives. For participants who already have their own Tamalpa practice it is an opportunity to continue and deepen ones own Tamalpa life/art practice, with the added gift of witness insights.
Participants will have the opportunity to:
Have the invitation to take time to slow down and rediscover what feels nourishing
Be guided to reconnect with the rhythm of one's own breath
To move freely to the beat of one's own pulse
To tap into what the participants own body is needing and wanting physically, emotionally and mentally
To allow space for each individuals creativity and body wisdom to express its self
To discover clear insights from the wisdom of their own body
To be seen and witnessed in a safe and non-judgemental environment
To leave with renewed energy for life and next steps
To find out more about the Level 1 Personal Embodiment Online training 2023/24
Laura Colomban, RSMT/ RSME Associate Teacher at Tamalpa UK will be guiding participants through this movement based expressive arts session online.
No art or dance experience is necessary to attend. The online workshop is open to all levels of experience.
Please note the online workshop is not fully in front of the screen for any longer than 45mins – 1 hour at any one time. The majority of activities will be away from the screen and in ones own environment to explore the guided movement and creative explorations.
FAQs
What do I need for this event?
A high speed internet connection
Laptop or computer with video camera
Please ensure you have enough space to move and dance in your room safely
Please wear comfortable clothes to move in
You will need some A2/A3 paper and either oil pastels, coloured pencils, crayons or preferred art materials
Note book and pen
Bottle of Water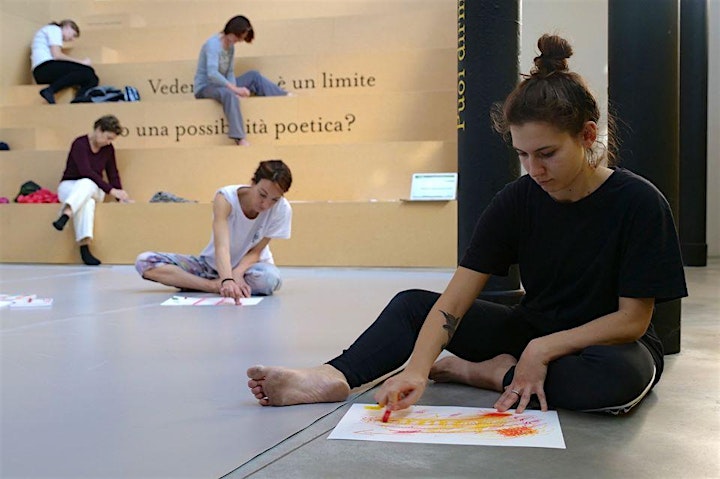 About Laura Colomban, RSMT/RSME
Laura Colomban is a Registered Somatic Movement Therapist and Educator (ISMETA Institute of Somatic Embodied Therapy Association)and Associate Teacher for Tamalpa UK.
Her methodologies and approach to the body are rooted in the Tamalpa Life / Art Process® and Atem-Tonus-Ton, which she practises as a therapist since 2012 in group and individual sessions.
Producer and co-founder of the Podcast DanceOutsideDance, she graduated with distinction at Trinity Laban Conservatoire of Music and Dance in London (Master of Fine Arts, Creative Dance Practice), where she has propelled her research on soma, sound and technologically mediated performance practices.
She is fond of collaborative processes, collective making and learning, to create an inclusive teaching methodology in conversation with the politics of everyday life.