Level 1 Personal Embodiment Training – 3 Day Foundation Course
October 18 @ 10:00 am

-

4:00 pm

£65.00 - £210.00
Tamalpa UK 3 Day Foundations Course
Tamalpa UK is delighted to be offering this new short foundations course as an introduction to our Level 1 Personal Embodiment Trainings.
FOCUS OF THE COURSE
The three day course spread across three months with Tamalpa UK Faculty members is an introduction to the Tamalpa Life Art Process® and larger year long Level 1 Personal Embodiment training. Each day of the course showcases a range of activities and variety of tools that will be explored on the training. (It is possible to register for individual days or the whole three day course )
WHO IS THE COURSE FOR
Any one interested in the Tamalpa UK Level 1 Personal Embodiment trainings, both Hybrid and Online formats. The course is designed for participants looking for a training that supports personal self development, or a professional pathway towards registration as a Somatic Movement Therapist or Educator with ISMETA the International Somatic Movement, Education and Therapy Association.
No movement or dance experience is necessary. The course is also for participants who have an established movement practice and are curious to discover how specific Tamalpa tools can deepen or develop their practice or professional career further.
The Foundation Course is a prerequisite for anyone wishing to apply to the NEW Week Day Online Format – Level 1 Personal Embodiment Training starting on 31st January 2024.
WHAT DOES IT SUPPORT
The Tamalpa work supports personal, interpersonal and social change, teaching new models of health, education, psychology and art.
Participants will have the opportunity to discover in an embodied way the value of the Tamalpa Life Art Process® and how others are using it to transform their lives personally to live a more fulfilled life, as well as professionally by implementing the Tamalpa work to further their careers as Registered Somatic Movement Educators, Registered Somatic Movement Therapists, Expressive Art Therapists, Coaches and Psychotherapists.
INTENTION FOR THE THREE DAYS
Each day of the Foundation course has been created to give participants an understanding and flow of the Level 1 Personal Embodiment Training. Participants will have the opportunity to connect with their physical, emotional and mental body through the Psychokinetic Imagery Process in a safe and encouraging way. The participants will be led through a number of Tamalpa Life Art Process® activities introducing them to some basic Tamalpa tools and guiding principles. As well as sessions on embodied experiential anatomy, non-violent communication skills and practicing the art of witnessing.
The foundation course supports an embodied and somatic experience of how the Tamalpa Life Art Process® works, allowing participants the opportunity to discover for themselves how the Tamalpa tools can be used for personal & professional development in a transformative and creative way. Bridging Life and Art.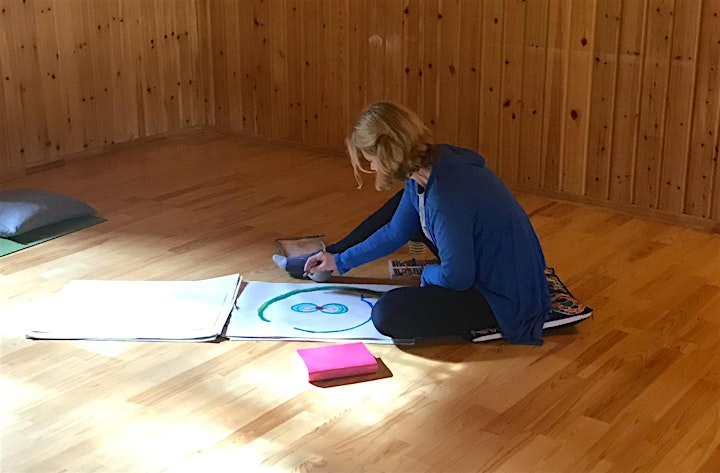 THE TOOLS
The Tamalpa Life /Art Process® pronounced TA_MAL_PA is an internationally recognised expressive arts approach, which combines movement, visual art, and creative writing to access the innate wisdom of the body and the transformative power of the imagination. It is an approach that has been finely tuned for over 50 years by the Co-Founders Anna and Daria Halprin at the Tamalpa Institute in California.
WHAT YOU WILL NEED
A high speed internet connection
Laptop or computer with video camera
Please ensure you have enough space to move and dance in your room safely
Please wear comfortable clothes to move in
You will need some A2/A3 paper and either oil pastels, coloured pencils, crayons or preferred art materials
Note book and pen
Bottle of Water
DATES & TIMES
Wednesday 18th October 2023, 10 am – 4pm with Lian Wilson – Introduction to Body Part Mapping & basic Tamalpa Tools
Wednesday 15th November 2023 , 10am – 4pm with Audicia Lynne Morley – Introduction to experiential embodied anatomy and Tamalpa Tools
Wednesday 13th December 2023 10am, – 4pm with Lian Wilson & Audicia Lynne Morley – Tamalpa Tools to navigate Life and Art, plus next steps.
ABOUT THE FACILITATORS
The course is being lead by two of the Directors of the Tamalpa UK Branch. Lian Wilson MSMT/ MSME and Audicia Lynne Morley MSMT/MSME have worked together with each other from over 20 years and founded Tamalpa UK together in 2012. Find out more about them here: