One day Advanced Graduate Workshop 11th November 2022
November 11, 2022 @ 10:00 am

-

5:30 pm
One day Advanced Graduate workshop – for graduates of Level 1, Level 2, Level 3 training programmes, and Tamalpa Practitioners
In celebration of Tamalpa UK turning 10, we are offering a one day special Annual Graduate workshop, to be held in person on Friday 11th November at the Chichester Memorial Hall, in Sandgate Kent. Facilitated by Tamalpa UK Core Faculty & Associate Teachers.
The day has been designed for Tamalpa graduates from any International Tamalpa training programme, Level 1/2/3 and Tamalpa Practitioners to support deepening their personal practice, recharge their TLAP skills and discover new insights and resources for life.
The day will involve:
Developing personal and professional practice through the Tamalpa Life Art Process®
Opportunity to reconnect with your own body's wisdom
Reconnect with peers, teachers and meet new graduates from other training programmes
Learn how our Tamalpa Practitioners are working in diverse settings
Time for your own creative process
Plug in and revitalise your own Tamalpa personal practice
Have a chance to connect with your Self -Portrait or artwork that you wish to explore further
Be a part of building the Tamalpa Community in a fun and positive way
Extended lunch break to have time to eat together collectively
Open to graduates from Level 1, Level 2 & Level 3 Tamalpa training programmes only.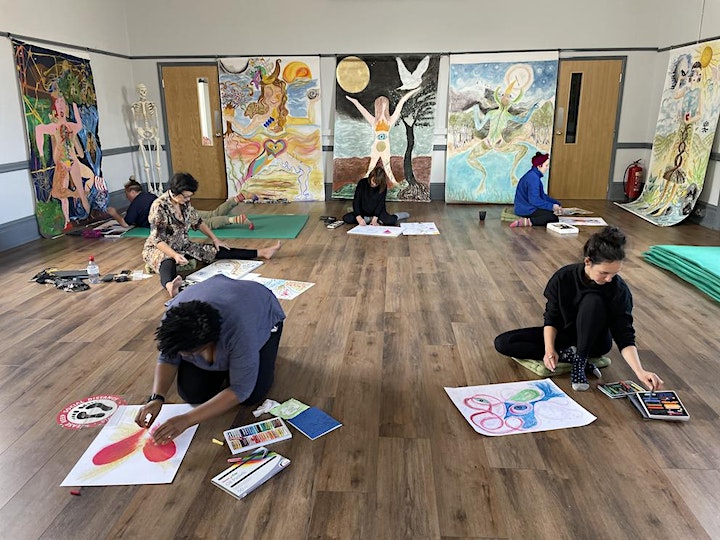 "The power of bringing my Self Portrait back out of the cupboard and hanging it along side other Self Portraits, was another life affirming moment. Being witnessed and witnessing others was a reminder of this incredible life changing work"
"For me the graduate weekend was a bringing together of ideas and thoughts that I had been aware of since the closing weekend of Level 1, but had not galvanised into anything concrete. Now there is a sense of direction, and I feel more confident in taking this work forward. In the workshop I felt a sense of reconnecting, and I was also able to 'top up' on my Tamalpa energy, so I can carry on by myself and with my own practice. There are no Tamalpa Practitioners near me and keeping the connections in my busy everyday life is a challenge. Working in a group of Graduates was liberating and inspiring"
"The opportunity to engage with graduates from previous years was extremely resourcing; to see how others apply the Tamalpa Life Art Process to their daily lives."
Further information please email info@tamalpa-uk.org
Early bird discount price £65 if register and pay by 1st September 2022
Time: Saturday 10am – 5.30pm GMT
**There will be a public Tamalpa Experience at the Chichester Memorial Hall on Saturday 12th & Sunday the 13th November. Graduates who wish to stay on and attend the whole weekend can book for three days for the additional cost of £97.50 at check out. – (50% off the full Tamalpa Experience ticket fee of £195)